Company Information
HSBC Holdings plc (ADR) is a banking and financial services organization. The Company's network is comprised of over 9,500 offices in 80 countries and territories in Europe, the Asia-Pacific region, the Americas, the Middle East and Africa. It provides a comprehensive range of financial services to personal, commercial, corporate, institutional and investment, and private banking clients. The Company's largest and best-known subsidiaries and their primary areas of operation are The Hongkong and Shanghai Banking Corporation Limited (The Hongkong and Shanghai Banking Corporation) (Hong Kong SAR, with an extensive network throughout Asia-Pacific); Hang Seng Bank Limited (Hong Kong SAR); HSBC Bank plc (United Kingdom); CCF S.A. (France); HSBC Bank USA (New York); HSBC Bank Brasil S.A.-Banco Multiplo (Brazil); HSBC Private Banking Holdings (Suisse) S.A. (Switzerland, Hong Kong SAR, Monaco, Luxembourg, United Kingdom, Singapore and the Channel Islands), and Grupo Financiero Bital S.A. de C.V. (Mexico).
What is the stock symbol for HSBC Holdings? HBC
Click here for the current HSBC Holdings stock price.
Is this stock a good buy?
Ask the Rogue Investor....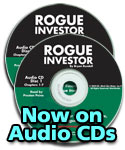 Testimonial
The Rogue Investor ebook is the only information on investing I've ever found that was useful and understandable. I enjoyed its format and its brevity. I'm not sure what improvements there would be to make on the book. It is something everyone should read whether or not they are interested in serious investing. Thank you very much!

- Kevin Davis
Are you tired of investing
in the stock market?
You can safely earn 18 to 50 percent
per year investing in government-
sponsored tax lien certificates.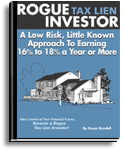 Testimonial

I wanted to let you know that I've spent the last several hours reading [your book] and I'm having a great time with it. It's a terrific read and you should be complimented with the care and detail you've put into it.

Thank you very much,

Rob Durstewitz