Company Information
Medtronic, Inc. is a medical technology company that provides lifelong solutions for people with chronic disease. The Company offers products and therapies for use by medical professionals to meet the healthcare needs of their patients. Primary products include those for bradycardia pacing, tachy-arrhythmia management, heart failure, atrial fibrillation, coronary vascular disease, endovascular disease, peripheral vascular disease, heart valve replacement, extra-corporeal cardiac support, minimally invasive cardiac surgery, malignant and non-malignant pain, diabetes, urological disorders, gastroenterological ailments, movement disorders, spinal surgery, neurosurgery, neurodegenerative disorders and ear, nose and throat surgery.
What is the stock symbol for Medtronic? MDT
Click here for the current Medtronic stock price.
Is this stock a good buy?
Ask the Rogue Investor....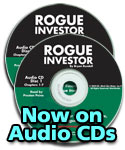 Testimonial
The Rogue Investor ebook is the only information on investing I've ever found that was useful and understandable. I enjoyed its format and its brevity. I'm not sure what improvements there would be to make on the book. It is something everyone should read whether or not they are interested in serious investing. Thank you very much!

- Kevin Davis
Are you tired of investing
in the stock market?
You can safely earn 18 to 50 percent
per year investing in government-
sponsored tax lien certificates.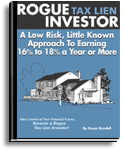 Testimonial

I wanted to let you know that I've spent the last several hours reading [your book] and I'm having a great time with it. It's a terrific read and you should be complimented with the care and detail you've put into it.

Thank you very much,

Rob Durstewitz