The definition of Price earnings ratio is:

The price of a stock divided by its latest annual earnings per share. This is known as trailing p/e, because it uses past earnings. Forward p/e uses the same calculation, but substitutes anticipated earnings. For example, a stock selling for $40 a share that reported earnings of $2.50 a share in the past year would have a trailing p/e of 16. If the same stock has projected earnings of $3 a share in the coming year, its forward p/e would be 13. If this earnings scenario is fulfilled, an investor who had to spend $16 to get one dollar of earnings will only have to spend $13 to get one dollar. That's why stocks with high p/e's are called expensive, while those with low p/e's are called cheap.

Rogue Stock Investor Collection teaches you to take control of your financial future and learn to make wise investment decisions for yourself!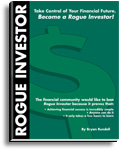 If you are pressed for time or don't feel like reading, you can simply pop the audio CDs into your car CD player, your home stereo system or your computer at work/home.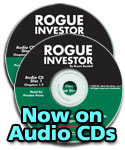 These audio CDs contain over 2 hours of straightforward and practical investing advice that anyone can understand. Listen to an audio clip.