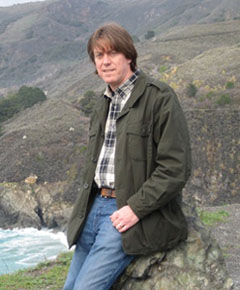 Dear Tax Lien Investors,
You may have listened to a late-night infomercial, gone to a bookstore or just heard some buzz about tax lien certificates and tax deeds.
If you are not familar with this type of investing, let me explain:

In the United States and Canada, if you fail to pay your property taxes, you will either have a lien placed on your property or your property will be foreclosed and sold to pay the tax debt. Canada uses the tax deed process and the United States is about equally split between States that use a tax lien process and states that use a tax deed process.

In a tax deed State, like California for example, you are sent notices and given about 3 years to pay before your property is listed and sold at a tax foreclosure sale. In a State like Arizona, if your taxes are not paid by the end of the year, you are placed on a list of delinquent property owners and the debt is sold at auction. You are then given a period of time to pay the taxes plus interest. This period of time is called the redemption period and it ranges from 6 months to 4 years. In the case of Arizona it is 3 years.

So how does this help you as an investor?

Well, you can attend a tax deed sale and buy properties starting at only the taxes owed. In many cases, you can purchase the property (deed) for less than 50% of its true value. In the case of tax lien states, you can purchase the debt just like you would do with a CD or Bond and it earns interest rates that are mandated by the State. Not only that, the debt is backed by the property so if the owner nevers pays, you have a right to foreclose and take ownership, just like a bank. In fact, your rights are more powerful than a bank.

Just to refresh your memory, here are some of the interest rates:

Arizona - 16%
Colorado - 9% plus Fed. Discount Rate
Florida - 18%
Indiana - 10% to 15%
Nebraska - 14%
Missouri - 10%
Iowa - 24%
Louisiana - 17%
Mississippi - 18%
New Jersey - 18%

There are even a few States that use a right of redemption fee where you are guaranteed a flat fee if the property redeems. Here are two example:

Texas - 25%

Georgia - 20%
You may have started your research and found out that getting tax sale lists takes some effort and the sales dates and lists are constantly changing. If you dig even further, you will find that you can buy tax liens and tax deeds online through the mail.
So, how can you easily find the lists?
The answer is…LET US FIND THEM FOR YOU...so you can relax and concentrate on your investments,
Our dedication to the tax sale market has taught us a few things about this undiscovered market:
You need to have good research skills to find the gems.


You need to keep updating your lists: the fresher the list, often the better the bargains.


You need to know how to navigate the county or state's over-the-counter process. Every process is different and the agency that handles tax sale auctions is often not the same agency that handles the over-the-counter sale process.
Many of you have told me that your job, busy schedule or health prevents you from doing a lot of traveling and you need a way to invest in tax liens and deeds from your home.

So I dedicated most of my creative energy into creating an Over-The-Counter Teleseminar and Super List.
The Over the Counter Teleseminar is a full hour of instruction and an additional hour of questions and answers – so you get two full hours of training. As part of this package, you receive a teleseminar that has been audio recorded so you can listen to it whenever you want.
The Teleseminar covers all the states that allow Over-The-Counter Tax Sale investing, including Alabama, Alaska, Arizona, Arkansas, Colorado, Florida, Illinois, Iowa, Montana, Nebraska, New Jersey, Oklahoma, Tennessee, Texas, Wisconsin and Wyoming.
Included with the Over-The-Counter Teleseminar is the Over-The-Counter Super List. This list contains thousands of liens and deeds that can be purchased through the mail.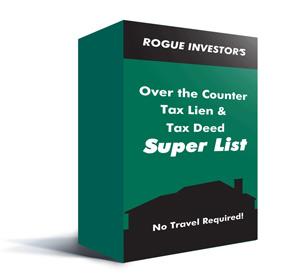 The Super List includes over the counter liens and deeds in the following states:
Alabama

Arizona

Arkansas

Colorado

Florida

Michigan

Nebraska


Mississippi

Pennsylvania

South Carolina

Texas

West Virginia
In total, you will have thousands of liens and deeds to choose from in 13 different states that offer over-the-counter sales. In just one county in Alabama, you'll have over 630 pages of liens and deeds to choose from.
New! You will receive updates to the Super List for FREE for one year following your purchase.
What if you don't know how to research the lists?
No problem.
As part of the Over the Counter Teleseminar, you will be given Rogue Investor's "Guide to Over-the-Counter Tax Sale Investing" and my latest book Tax Liens Unleashed. These guides contain step-by-step instructions on how to screen through over-the-counter lists so you can work through an actual list and feel comfortable about your screening expertise.
Testimonial
I purchased your program and OTC Super List late last year. I am in the process of finalizing my first deal. Using the methods you have described, I located 16 pieces of land in a lakeside gated community with a golf course. I was able to secure 15 out of the 16 parcels at an average cost of $1,250 per parcel. Once I get the titles cleaned up so I can issue warranty deeds, my total cost per piece of land will be approximately $2,000. The interior lots currently sell for $12-15,000 and I have 6 lots that will even command a premium over that price – one is two lots from the lake, four back onto nature / greenbelt areas, and one even backs up against an adjacent state park. All in, my cost was around $30,000 for over $200,000 worth of properties.
Thank you!
Andrew Gold
Special Bonus
For a LIMITED time only, we're offering a complete service that includes the OTC Teleseminar and SuperList as a FREE gift in

Rogue Investor's Tax Liens Unleashed Premium Service.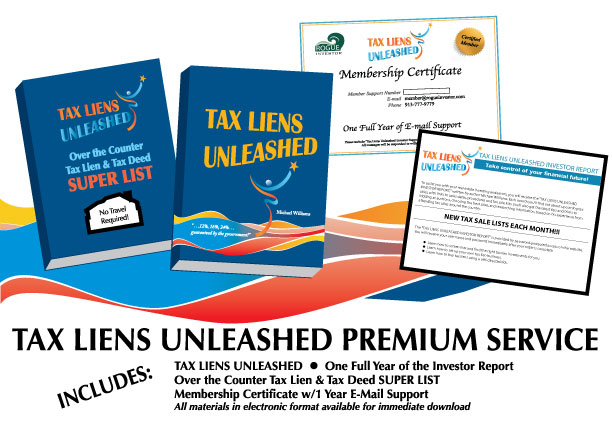 If you've wanted to learn about over-the-counter liens/deeds, how to find the lists and which ones are the best, you owe it to yourself to read more by visiting this link:

Send me your success stories,

Michael Williams
P.S. You deserve to make high returns with an investment strategy that has built in safety. Learn more so you can decide if this type of investing business is right for you. Visit Rogue Investor home page for more information.

Rogue Investor (http://www.rogueinvestor.com)