Rogue Investor's Over-the-Counter Superlist Updates
Click here to discover how you can safely earn 18% to 240% per year in
government tax liens and deeds using your own self-directed IRA
Welcome to Your Over-the-Counter Superlist Research Page!
Here we have provided several tools to help you with your over-the-counter (OTC) tax sale investing: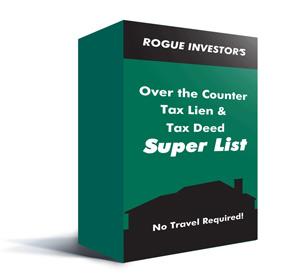 Over-the-Counter Superlist.

Click here for OTC List...OTC Superlist


Audio downloads of two teleseminars

OTC Teleseminars

Audio download (Mp3 format)



OTC Teleseminar 1: OTC audio file



OTC Teleseminar 2: OTC audio file 



Note

:

TheMP3 digital audio file can be played with any digital audio player supporting MP3 playback (e.g. Windows Media Player, iPod, MusicMatch, iTunes, QuickTime, etc.).
Rogue Investor (http://www.rogueinvestor.com), Copyright 2012-2015
Mind Like Water, Inc., 5400 Johnson Dr. #106, Mission, KS 66205
info@rogueinvestor.com