Hello Premium Members,

Last time I talked about over-the-counter (OTC) investing and mentioned Florida. I was planning on discussing a California tax deed sale or Alabama state-held liens. However, it appears that Real Auction and some Florida counties are working together to release the OTC liens using an Internet auction process.

So, if you don't mind being flexible, let's take advantage of these online options.

Reminder: Annual tax lien sales in Florida are held in May/June so these OTC lien lists are ripe and ready for the picking.

First, visit Real Auction and sign up to get a username and password.

http://www.realauction.com/template.cfm?r=LeftMenu/ListCountyauctions

Once you reach this site, you will see that the normal tax lien sales are closed, but several counties show dates for the release of county-held liens. The good liens go quickly so look at the list today. Hillsborough, FL county-held liens were released July 12th. Also, Hendry, Nassau and some other counties were just released.

Last night I looked at some of the Hendry County liens, which were mostly land. However, some of the lots I saw were located next to a golf course and near small lakes in a planned community. Moreover, a few of the lots were 2.5 acres in size so if you can stomach a longer hold time and being ready to take these to the tax deed sale in two years, there could be some opportunities. Florida runs in cycles and we are certainly in a down cycle, but a warm climate still sells very well in the winter time. Just ask the snow birds that come down to southern Florida every year, making the population nearly double.

Also, notice that some of the other counties have not released their lists. You will need to be vigilent and keep checking back or call and see when the lists will be released. You will probably have to call the County Tax Collector.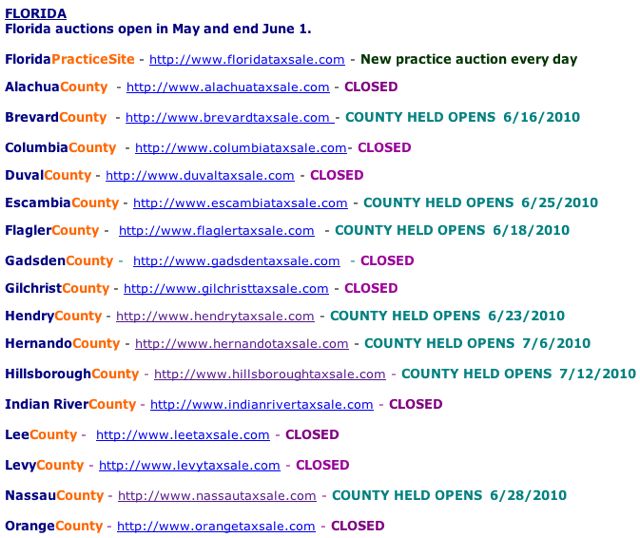 Before we go on I want to remind you that Real Auction does not control all of the counties and the lists. Some counties still operate auctions and maintain tax lien lists either on their website or at the county. I have had to literally go to the county, put in a request, go to lunch and waste the rest of the day waiting. What a pain! Actually, the list was very fresh so it was great. This was a smaller county outside of the tourist and population centers. If you live in Florida or plan on taking a trip, consider making your visit at least partially tax deductible and pick up a list.

The Tax Collector runs the tax lien sale and holds the county-held or OTC tax lien lists. The Clerk of the Cicuit Cout runs the tax deed sales and hold the Lands Available or OTC tax deed lists. Visit www.FloridaTaxLienCertificates.com.

Hillsborough, Florida County-Held Certificates

Step 1: Visit the auction site. Read through the rules and register for the sale. You will need to register as a person with your Social Security Number, as a business with an Employer Identification Number, or with an Individual Taxpayer Identification Number.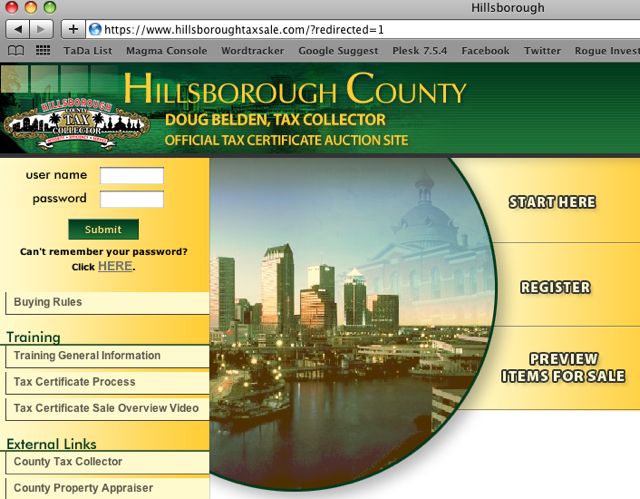 ***County-Held Certificate Sale Begins July 12, 2010***

The County-Held Tax Certificate Sale offers for public purchase all certificates not sold at auction. The unsold certificates carry an 18% interest rate per Florida Statute.

To purchase a county-held certificate, first make your buying deposit (See Bidding Rules). Next, place an '18' in the entry box next to the certificates you wish to purchase on the buy pages.

On July 30, 2010 at 12:00 PM ET, the certificates will be awarded to winning buyers. In the case of more than one buyer indicating the same certificate, the sale program will randomly choose the successful buyer. Buyers will have until August 2, 2010 at 5:00 PM ET to pay for their winning certificate purchases using the payment wizard inside the website. If taxes are paid before your payment is received, that purchase is canceled and you will receive a refund.

Please note: It is the bidder's responsibility to research certificates prior to placing a bid. Certificates that are purchased and not paid for can result in the Tax Collector banning the purchaser from participating in any further County sales.

Notice to Bidders
The following Notice to Bidders will need to be agreed to on all Florida websites before the user can enter the auction.

Notice: The offer or sale of vacant residential lots or parcels in a subdivision may be subject to the Land Sales Practices requirements of Chapter 498, Florida Statutes, and may require you to be registered with Florida Department of Business and Professional Regulation, Division of Florida Land Sales, Condominiums and Mobile Homes.

As a point of information, an individual (who is not a developer) is allowed to buy a tax deed for only one lot in a planned subdivision for the purpose of resale. Section 498.025(1), Florida Statutes states:

Except as provided in s. 498.022, the provisions of this chapter [498.025] do not apply to the offer or disposition of an interest in subdivided lands by a purchaser for his or her own account in a single isolated transaction." The Bureau of Florida Land Sales has stated that its concerns are with providing disclosure to persons who are successful bidders; and who after two years apply for a tax deed, and who at the courthouse public auction obtain multiple tax deeds, for the purpose of resale to multiple purchasers. A seller of lots in property subdivided or proposed to be subdivided into 50 lots or more is required to be registered with the Department of Business and Professional Regulation, Division of Florida Land Sales, Condominiums, and Mobile Homes. Also, if a certificate holder purchases 5 certificates in a subdivision that contains 25 or more lots, and eventually obtained 5 tax deeds, he would be subject to the provisions of section 498.022, Florida Statutes, regarding standards for transacting land sales. Therefore, it is recommended that, when purchasing certificates on lots or parcels in a subdivision, the Department of Business and Professional Regulation, Division of Florida Land Sales, Condominiums, and Mobile Homes be contacted at (850) 488-1631 to ascertain your responsibility with regard to subsequent sale transactions of lots in that subdivision.

Sign Up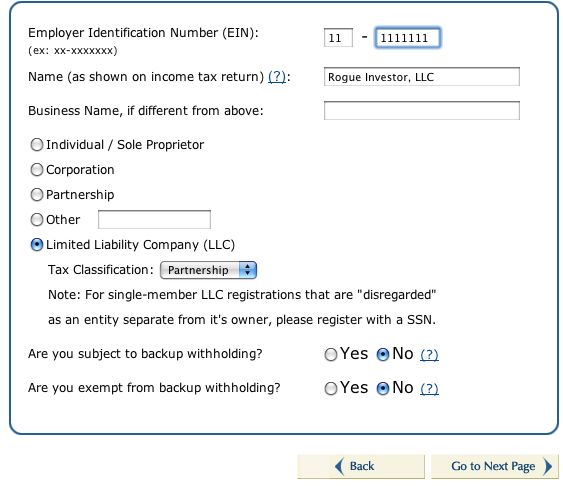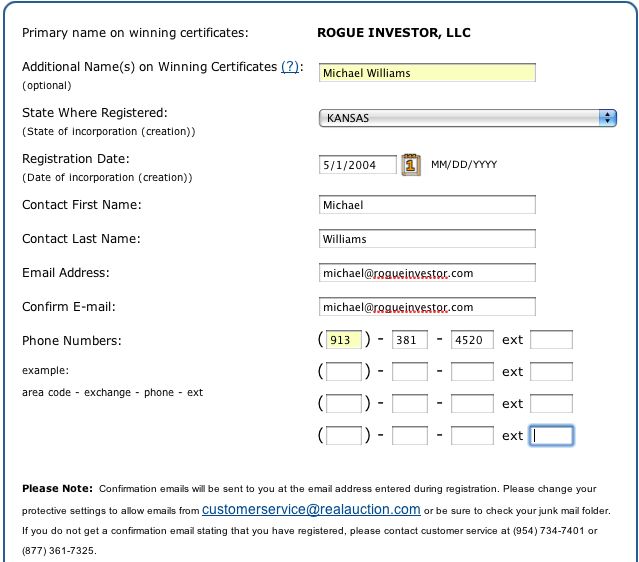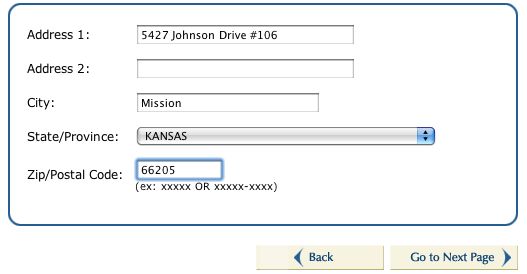 Now we have created a profile. Next, you will really want to view the list and do some searches to make sure you even want to buy any certificates. If you decide to buy, then you will need to make a deposit.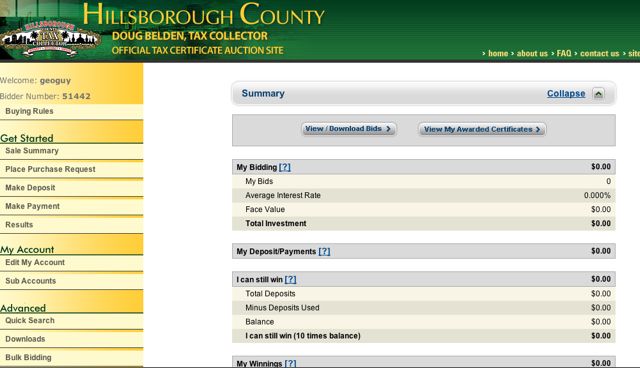 Real Auction works well with the County government and you can easily setup a 10% deposit by using your bank's routing or ACH and account information. Note: if you decide not to buy anything or the random bidding process does not work in your favor, your account will be refunded.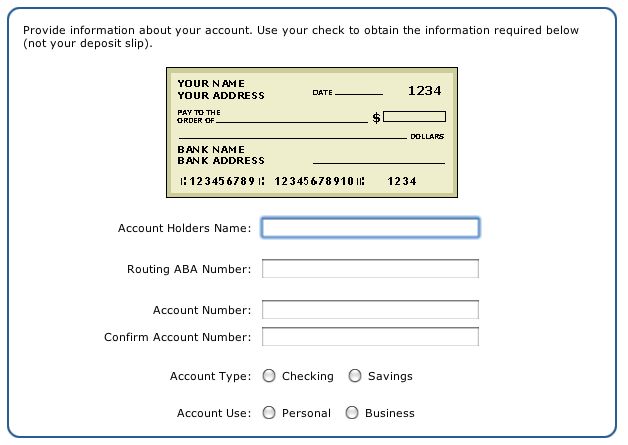 The great thing about online investing is you can do some sorts directly using their system.




Here is one potential screen to use. You should be creative and come up with your own based upon your investing criteria. This screen assumes an assessed value greater than $10000, no more than two years of unpaid taxes and land use codes for single family homes, mobile homes and condos. It also includes homestead properties, which are owner-occupied.

Homestead property owners are more likely to redeem so they do not lose their property. However, in the event of foreclosure they have certain rights, such as being paid at least 50% of the properties value.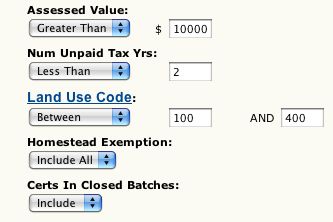 Bidding
When you are ready to bid, please note that you will be bidding the full interest rate of 18% for these county-held certificates. At a normal auction, you could bid down to .25% or even 0% as discussed before.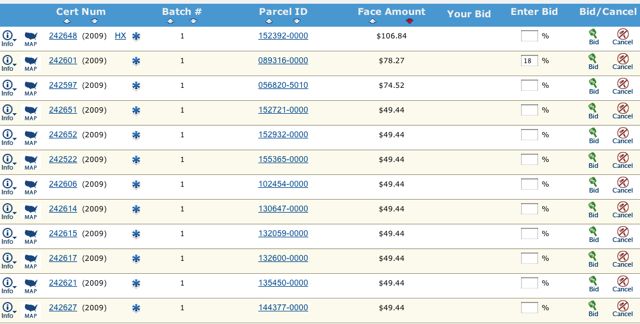 Click on the certificate number or parcel I.D. to find out details about the property as well as how many bidders are active. Check out the map link, of course, and find out where the property is located.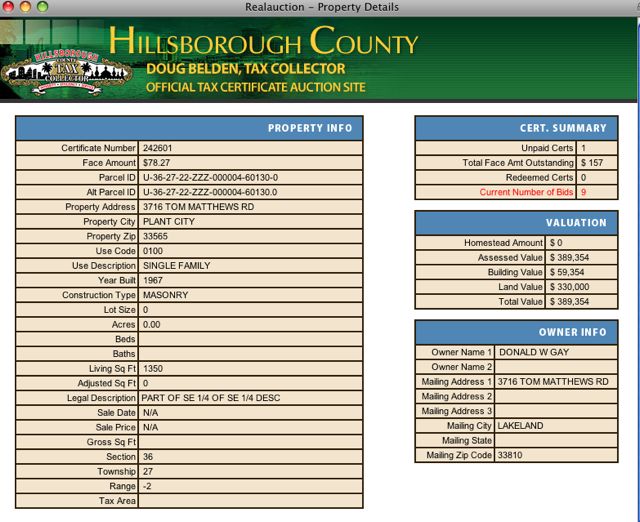 Summary

Most of these liens are on properties that are worth well over the nominal fee listed. The goods news is the 18% interest. The bad news is they have adopted a system of random bidding so you will not know until July 30th whether you have won the bid. If you do win, you get 18% per year with a guaranteed 5% earnings for early withdrawal. Not too bad for never leaving the house.

Good luck,

Michael

P.S. We recently updated the over-the-counter lists and links on the main premium page, so be sure to check it out.