Limited Liability Corporation LLC Site Map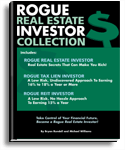 Whether you are a real estate investor or just wanting to start a small business, forming a corporation or limited liability company (LLC) will help protect your personal assets.
The following table provides links for information on setting up a LLC in all U.S. States.
Contact your state and find out what forms are necessary. Rogue Real Estate Investor Collection also includes information on how to invest in real estate, foreclosures, tax liens and other investments through your limited liability company and your own self-directed IRA.