California Tax Lien Certificate Information:
California just recently added tax liens, changing from a tax lien auction state that only sold delinquent properties at auction to a state that now sells tax lien certificates. However, to date, no counties in California have ever had a tax lien sale. If California does choose to have a tax lien sale, the interest rate will be 18%.
However, California is an excellent state for tax deed sales. At tax deed sales you can sometimes buy entire properties for 75% to 90% below market value.
If you are seeking more information on California Tax Foreclosure Sales, please visit us at: Rogue Tax Lien Investor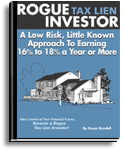 Rogue Tax Lien Investor gives you what you need: a simple plan for earning 16 to 18 percent or more per year by buying tax lien certificates.
Rogue Tax Lien Investor, reveals the hidden, safe and lucrative real estate investing opportunities available in California tax foreclosure sales.