Rogue Investor Workshops
Tax Sale Workshops
ALL CONFERENCES FOR 2011 HAVE BEEN CANCELLED

Sedona, AZ
February 6-8, 2011

Atlanta, GA
May 2-4, 2011

Kansas City, MO
August 20-23, 2011

Austin, TX
October 3-5, 2011
Did YOU miss one of our Tax Sale Workshops?
Click on the above table to order your manual of choice

The course manual arrives in two separate books. The first book includes the following information:
Investing in Tax Liens/Deeds
Investing in Foreclosures
How to Set Up and Manage a Self-Directed IRA
How to Set Up and Manage Your Own Internet Business
How to Fix and Maintain Your Credit
The Do's and Don'ts of Investing in International Properties
And More...
The second book includes:
State Tax Sale Laws (The laws included are dependent on the workshop and its location)
County Tax Sale List (The tax sale list is dependent on the workshop and its location)
So, What are people saying about the Rogue Investor Workshops?

"This is one of the best conferences I've ever been to. I enjoyed the time and it was very well put together. I had so much fun this weekend, I wish it wasn't ending. Thank you Rogue Investor." -Claire Lawrence

"The substance of many other real estate seminars have left us fearful of moving forward. Attending the auction with Gus & Michael was an exciting learning experience. Their instruction and support helped us to successfully bid for and purchase a $12,000 property for $4000. Michael and Gus's passion and conviction helped us overcome our fear of the unknown. We are very eager to begin participating in the Wealth Umbrella Program. Thanks Gus & Michael. "

-Gary & Gretta Kilpatrick
---
Tax Lien Certificates and Tax Deed Investing
You Can Buy Tax Lien Certificates for as Little
as $82.28 and Safely Earn 16% by State Law
Learn More Below!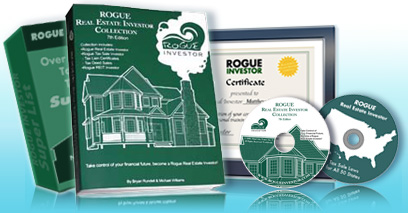 Click Here