Company Information
Caterpillar Inc. operates in three principal lines of business: Machinery, Engines and Financial Products. Machinery is engaged in the design, manufacture and marketing of construction, mining, agricultural and forestry machinery. The Engines segment focuses on the design, manufacture and marketing of engines for Caterpillar Machinery; electric power generation systems; on-highway vehicles and locomotives; marine, petroleum, construction, industrial, agricultural and other applications, and related parts. Financial Products offers financing to customers and dealers for the purchase and lease of the Company's and other equipment, as well as some financing for the Company's sales to dealers.
What is the stock symbol for Caterpillar? CAT
Click here for the current Caterpillar stock price.
Is this stock a good buy?
Ask the Rogue Investor....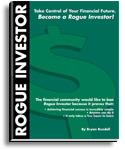 Testimonial
Dear Mr. Rundell (or can I call you Bryan?),

First of all I would like to tell you that your Rogue Investor has played a major role in helping me make investment decisions that have proven to be important for me. Amounts involved were not huge, about 4,000 or 5,000 dollars each time, but I feel that you helped me understand the importance of common sense in investing. At the beginning I thought I'd never be able to take control of my investments: now I know that this is possible and even amusing. thank you and kind regards
Carlo Bellingeri