Company Information
Citigroup Inc. is a diversified global financial services holding company whose businesses provide a broad range of financial services to consumer and corporate customers with some 200 million customer accounts in over 100 countries and territories. The Company's activities are conducted through the Global Consumer, Global Corporate and Investment Bank (GCIB), Private Client Services, Global Investment Management (GIM) and Proprietary Investment Activities business segments. In August 2002, the Company completed the spin-off of Travelers Property. In November 2002, the Company acquired Golden State Bancorp, the parent of California Federal Bank, which had 352 branches in California and Nevada.
What is the stock symbol for Citigroup? C
Click here for the current Citigroup stock price.
Is this stock a good buy?
Ask the Rogue Investor....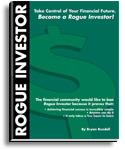 Testimonial
Dear Mr. Rundell (or can I call you Bryan?),

First of all I would like to tell you that your Rogue Investor has played a major role in helping me make investment decisions that have proven to be important for me. Amounts involved were not huge, about 4,000 or 5,000 dollars each time, but I feel that you helped me understand the importance of common sense in investing. At the beginning I thought I'd never be able to take control of my investments: now I know that this is possible and even amusing. thank you and kind regards
Carlo Bellingeri