Company Information
The Procter & Gamble Company manufactures and markets more than 250 products to more than five billion consumers in 130 countries throughout the world. The Company categorizes its business operations as follows: Baby, Feminine and Family Care, Fabric and Home Care, Beauty Care, Health Care, and Food & Beverage. The Company acquired the Clairol business from Bristol-Myers Squibb Company in November 2001. Clairol is a manufacturer of hair color and hair care products.
What is the stock symbol for Procter & Gamble? PG
Click here for the current Procter & Gamble stock price.


Is this stock a good buy?
Ask the Rogue Investor....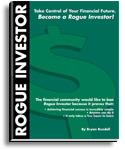 Testimonial
Dear Mr. Rundell (or can I call you Bryan?),

First of all I would like to tell you that your Rogue Investor has played a major role in helping me make investment decisions that have proven to be important for me. Amounts involved were not huge, about 4,000 or 5,000 dollars each time, but I feel that you helped me understand the importance of common sense in investing. At the beginning I thought I'd never be able to take control of my investments: now I know that this is possible and even amusing. thank you and kind regards
Carlo Bellingeri