Company Information
SBC Communications Inc. provides communications services and products in the United States through its subsidiaries. The services and products that the Company offers vary by market and include local exchange services, wireless communications, long-distance services, Internet services, telecommunications equipment and directory advertising and publishing. Its services and products have been marketed under several brands including SBC Ameritech, SBC Nevada Bell, SBC Pacific Bell, SBC SNET, SBC Southwestern Bell, and, through its joint venture with BellSouth Corporation, Cingular Wireless. The Company operates four business segments: wireline, wireless, directory and international.
What is the stock symbol for SBC? SBC
Click here for the current SBC stock price.


Is this stock a good buy?
Ask the Rogue Investor....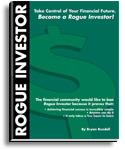 Testimonial
Dear Mr. Rundell (or can I call you Bryan?),

First of all I would like to tell you that your Rogue Investor has played a major role in helping me make investment decisions that have proven to be important for me. Amounts involved were not huge, about 4,000 or 5,000 dollars each time, but I feel that you helped me understand the importance of common sense in investing. At the beginning I thought I'd never be able to take control of my investments: now I know that this is possible and even amusing. thank you and kind regards
Carlo Bellingeri