Arkansas Tax Deed Sales Information:
Arkansas is one of the best states for buying foreclosed property at auction or through the mail. Arkansas conducts tax foreclosure sales where the deeds to properties owned by delinquent property taxpayers that have refused to pay their property taxes are sold at auction. At these sales, entire properties can sometimes be purchased for only the taxes owed. They can also be called Arkansas Land Sales.
Hi. If you are seeking more information on Arkansas Tax Foreclosure Sales, please visit us at: Rogue Tax Lien Investor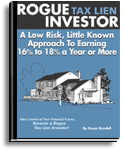 Rogue Tax Lien Investor gives you what you need: a simple plan for buying properties at tax deed sales.
Rogue Tax Lien Investor, reveals the hidden, safe and lucrative real estate investing opportunities available in Arkansas foreclosure sale investing.