Are these stocks a good buy?
Ask the Rogue Investor....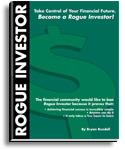 Testimonial
Dear Mr. Rundell (or can I call you Bryan?),

First of all I would like to tell you that your Rogue Investor has played a major role in helping me make investment decisions that have proven to be important for me. Amounts involved were not huge, about 4,000 or 5,000 dollars each time, but I feel that you helped me understand the importance of common sense in investing. At the beginning I thought I'd never be able to take control of my investments: now I know that this is possible and even amusing. thank you and kind regards
C. B.