Missouri Tax Lien Certificate Information:
10 percent return per year

2 year property redemption period
Hi. If you are seeking more information on Missouri Tax Liens, please visit us at: Rogue Tax Lien Investor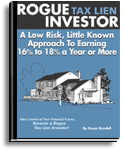 Rogue Tax Lien Investor gives you what you need: a simple plan for earning 16 to 18 percent or more per year by buying tax lien certificates.
Rogue Tax Lien Investor, reveals the hidden, safe and lucrative real estate investing opportunities available in Missouri tax lien certificates.