Can a 48-year woman with no professional training create a 22 million dollar fortune using the simple investing principles in Rogue Investor?
Unsolicited Testimonial:
The RI ebook is the only information on investing I've ever found that was useful and understandable. It is something everyone should read whether or not they are interested in serious investing. Thank you very much!
-Kevin Davis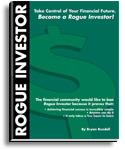 Learn how you can take control of your financial future by researching stocks the Rogue Investor Way.